We're pleased to announce our 2018 Primary Election Endorsements!
US Senate: Bob Casey
US House: Mike Doyle
PA Governor: Tom Wolf
PA Lt. Gov: Nina Ahmad
PA House 23rd: Dan Frankel
PA House 24th: Ed Gainey
PA House 34th: Summer Lee
Our 2018 Endorsements for PA State Democratic Committee:
Barbara Ernsberger
Abigail Gardner
Jessica McCurdy
Caroline Mitchell
Judy O'Connor
Jessel Costa
Ryan Herbinko
Marvin Leibowitz
Ryan Morden
PGH 14 WIDC By-Law Changes: APPROVED
2017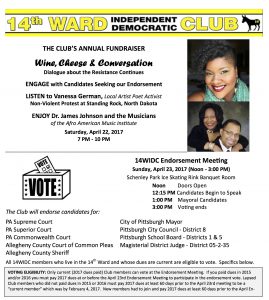 CLICK HERE FOR THE 2017 ENDORSED CANDIDATES
Here are our sponsors. Thank you!
EXTRAORDINARY!
People for Peduto              Rich Fitzgerald
SUPER!
Jay Costa for Senate           Friends of Dan Gilman     Committee to Elect Bill Mullen
Jessica Lynch for Court of Common Pleas       Maria McLaughlin for Judge
Darlene Cridlin & Robert Shreve        PA Representative Dan Frankel
Mark Sindler for Magistrate
  SPONSOR
Barb & Dave Grover                Elect Dan Butler Judge               Friends of Corey O'Connor
Friends of Ghadoh Makoshi                     Judge Geoff Moulton for Superior Court
Julie & Irv Freeman            Skinker Family             Linda Martin & Noel Walkington
                    Saleem Khan       Terry Kennedy for School Board       Judge David Spurgeon
Abbie Campsie for Magistrate      John T. Connors
MEMBER SPONSORS
Karen Hochberg        Heidi Norman        Georgia & Margoris Davidson         Eunice Ross
Katy Smith & John Burke        Donna Hoffman & Richard Dum          Ed & Lynda Wrenn
Jonathan Cox     Mary Hall     Liz & Mike Healey     Kimberly Kisner     John T. Connors
2017 RESISTANCE INAUGURAL BALL SPONSORS
Every year the Club holds a fundraiser with entertainment, and for 2017, in keeping with our interest in increasing engagement in the north Point Breeze and Homewood area, we engaged musicians from the community treasure and vital cultural center in the Afro American Music Institute and poet-artist Vanessa German, who had a lot to say from her experience at the Dakota Access Pipeline Protest camps over the winter.