2017 Local and State Elections
General Election NOVEMBER 7!                Get our get-out-the-vote postcard HERE!

It's all about the Judiciary: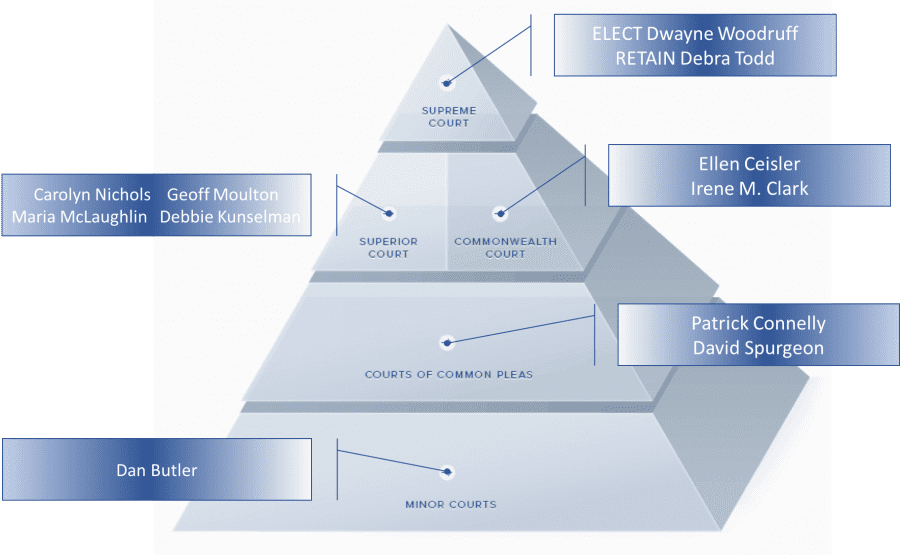 ---
Primary 2017 is an important year for local and state-wide elections. There are no federal elections this year. 14WIDC endorsements are listed below and the 2017 Voters Guide was mailed to the home address of registered Democrats in the 14th Ward on May 8.
---
14WIDC Endorsements
Members of the 14WIDC met on Sunday April 23 for the Annual Endorsement Meeting. Members had the opportunity to listen to candidates for office and then vote to endorse their chosen candidates.
The Club's official endorsements for 2017 are as follows:
PA Supreme Court Justice: Dwayne Woodruff
Allegheny County Sheriff: Bill Mullen
City of Pittsburgh Mayor: Bill Peduto
Pittsburgh City Council – District 8: Dan Gilman
Pittsburgh School Board – District 1: Sylvia C. Wilson
Pittsburgh School Board – District 5: Terry Kennedy
Magisterial District Justice: District 5-2-35: Dan Butler
PA Superior Court: Carolyn H. Nichols, Geoff Moulton, Maria McLaughlin, and Debbie Kunselman
PA Commonwealth Court: Ellen Ceisler and Todd Eagen
Allegheny County Court of Common Pleas: Patrick Connelly and David Spurgeon
---
Offices & Candidates up for Election in 2017
Links lead to the official websites for each office to learn more information. All current Democratic candidates for each office are listed in alphabetical order and political incumbents are indicated with (I) and sitting judges that have been appointed to fill a vacancy until November's election are designated with an (A) for appointed. 14WIDC endorsed candidates are bolded.
The Pennsylvania Bar Association (PBA) has rated the candidates for statewide judicial offices, as indicated below.
The Allegheny County Bar Association (ACBA) has rated all judicial candidates for the Allegheny County Court of Common Pleas and any candidates for statewide judicial office who have requested a review.
The Allegheny County Democratic Party has also released their endorsements for 2017.
PA Supreme Court – 1 vacancy
Judge Dwayne Woodruff – PA Bar Assn Recommended & ACBA Recommended
PA Superior Court – 4 vacancies
William F. Caye, II – PA Bar Assn Not Recommended
Judge Deborah Anne Kunselman – PA Bar Assn Highly Recommended
Judge Maria McLaughlin – PA Bar Assn Recommended
Judge Geoffrey Moulton (A) – PA Bar Assn Highly Recommended
Judge Carolyn H. Nichols – PA Bar Assn Recommended
PA Commonwealth Court – 2 vacancies
Rep. Bryan E. Barbin – PA Bar Assn Recommended
Walter Timothy Barry – PA Bar Assn Recommended & ACBA Highly Recommended
Judge Ellen H. Ceisler – PA Bar Assn Recommended
Irene McLaughlin Clark – PA Bar Assn Not Recommended & ACBA Not Recommended at this Time
Judge Joseph Matthias Cosgrove (A) – PA Bar Assn Highly Recommended
Richard Todd Eagen – PA Bar Assn Recommended
Allegheny County Court of Common Pleas – 2 vacancies
Pauline Calabrese – ACBA Not Recommended at this Time
Patrick Connelly – ACBA Highly Recommended
Rosemary Christina Crawford – ACBA Highly Recommended
Jessica Lynch – ACBA Not Recommended at this Time
Mary McGinley – ACBA Recommended
Judge David Spurgeon (A) – ACBA Highly Recommended
Bill Mullen (I)
George Satler
Darlene Harris
William Peduto (I)
John Welch
Pittsburgh City Council – District 8
Pittsburgh School Board – District 1
Pittsburgh School Board – District 5
Terry Kennedy (I)
Ghadah Makoski
Magisterial District Judge – District 05-2-35
Judge Dan Butler (A)
Abbie Campsie
Mark Sindler
Matthew J. Wholey
---
Tuesday, Oct 10       Last day to REGISTER before the November election
Tuesday, Oct 31       Last day to apply for ABSENTEE ballot
Friday, Nov 3            Last day for Board of Elections to receive ABSENTEE ballots
Tuesday, Nov 7        ELECTION DAY … PGH 14 WIDC Voters' Guide
---