2021 CANDIDATE FORUMS
and ENDORSEMENT  ELECTION
2021 Endorsements for Court of Common Pleas:

Bruce Beemer, Jessel Costa, Nicola Henry-Taylor, George Heym, Elliot Howsie, Sabrina Korbel, Lisa Middleman, Tiffany Sizemore, and Chelsa Wagner
2021 Endorsements for All Other Offices and the Referenda:
Pennsylvania Supreme Court: Maria McLaughlin
Pennsylvania Commonwealth Court: David Spurgeon and Amanda Green-Hawkins
Pennsylvania Superior Court: Jill Beck
Allegheny County Sheriff: Kevin Kraus
Pittsburgh Mayor: Ed Gainey
City Council District 8: Erika Strassburger
School Board District 1: Sylvia Wilson
School Board District 5: Terry Kennedy
Solitary Confinement Referendum: Yes
No-Knock Warrant Ban: Yes
Equal Protection Amendment: Yes
Emergency Declaration Amendment: No
Legislative Resolution Amendment: No
The results are also on  our Facebook page and will be in our 2021 Voters Guide mailed to Democratic voters throughout the 14th Ward.
FIVE referenda to be voted on  May 18! Information here.
Courts have a vital role to play in everyone's lives. Learn about Pennsylvania's courts here.
Please help to support  the Voters Guide: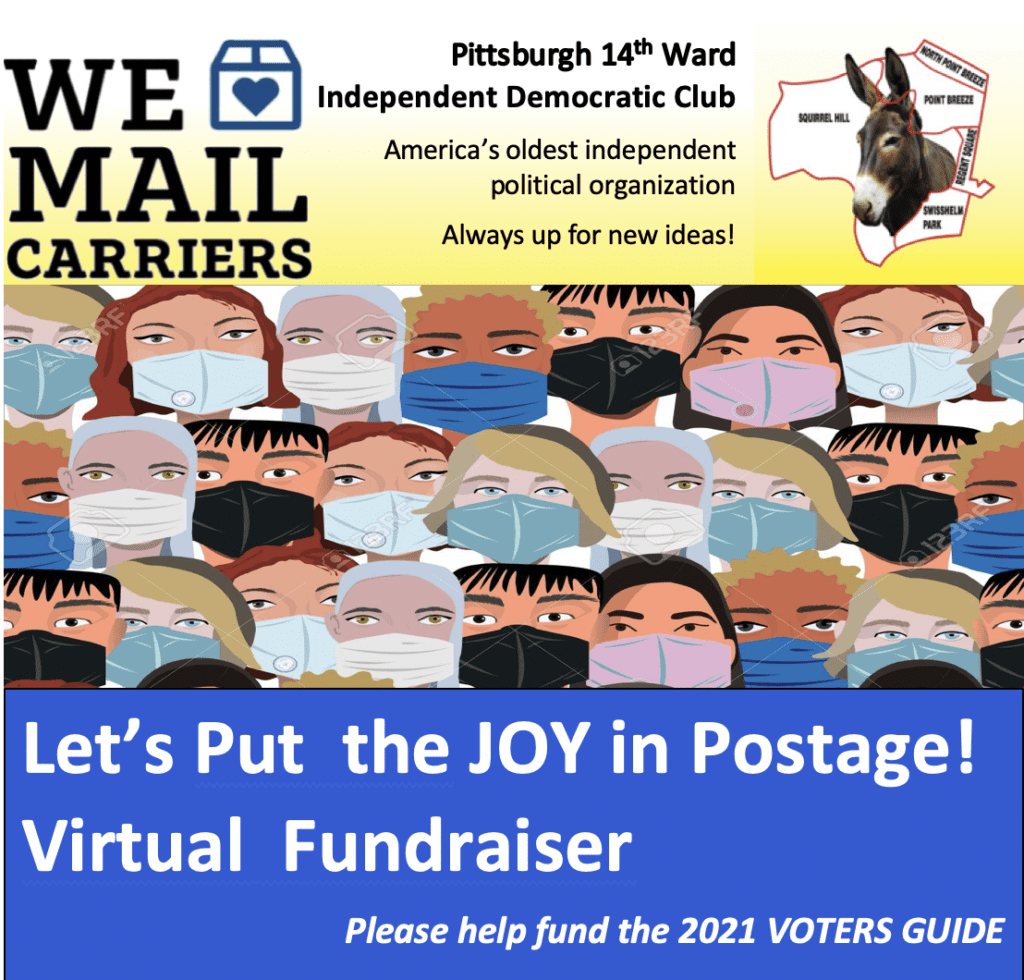 Because…

The 2021 ANNUAL MEETING was SUNDAY 31 JANUARY

Watch the recording:

Introductions: 0:00-6:30 | Video Presentations: 6:30-33:00 | Panel Presentations and Discussion: 33:00-1:27 | About  the 2021 Club Endorsements: 1:27-1:35 | Thanks, recognitions, and announcements: 1:35-1:44
This year's Spring Primary affords us a unique opportunity: the ability to respond to the stark reality of social and racial injustice with our vote. With the candidates for Mayor, City Council, School Board, County Sheriff, Magisterial District Judge, and Common Pleas and Appellate Courts all on the ballot, it is time to view this election through the lens of Justice.
The Barbara Daly Danko Political Forum this year will be devoted to exactly that. Discussion will include ending cash bail, electing anti-racist judges, police and public safety, and protecting our vote.
Members are creating a video highlighting "Activities in the 14th Ward that Bend the Arc Towards Justice."
Speakers included Marie Norman of the "Order of the Phoenix" organizing group, and David Harris and Jerry Dickinson of the University of Pittsburgh School of Law; followed by a panel presentation and discussion with Rep Summer Lee, Gwen's Girls CEO Dr. Kathi Elliott, and Executive Director Jam Hammond of the City of Pittsburgh Commission on Human Relations.
ANNUAL ENDORSEMENT MEETING MEMBER MATTERS:
To vote in the 2021 Primary Endorsement Election: members make sure we have your email address. For household memberships: one email per member of the household. Send them here.
Remember, our courts have a vital role to play in everyone's lives.
The proposed By-Laws changes adjusting timing for the Club Primary Election Endorsement vote were approved.
---
---
IN THIS YEAR'S ELECTIONS,
You have three basic options: vote early, vote in-person or vote by mail.
1. Vote Early: You can vote early in person or if you received a mail-in ballot you can bring it with you and put it in a drop box at the locations and times listed on our Current Elections page.
2. Vote In Person: If you're comfortable voting in person, plan to do that. Decide now when you'll head to the polls on Tuesday, May 18 and create an event in your phone's calendar. For example: "VOTE!! on May 18th @ 8-9 am." Then convince a friend to go with you, grab a mask on your way out the door, and make your voice heard! For information on what to expect at your polling station and the location of your polling station, click here. 
3. Vote By Mail: Applications may be completed online. Or, in the alternative, you can download and complete an absentee ballot application and mail it to the Elections Office (604 County Office Building, 542 Forbes Avenue, Pittsburgh 15219). Your application must be RECEIVED by 5 PM on May 11, 2021 to vote in the primary election.

Note: When your mail-in ballot arrives, fill it out and drop it in the mail as soon as possible. If you wait until the week of the election, your ballot may not arrive in time to be counted.
FAQs:
Not sure if you're registered at your current Pennsylvania address? Check your voter registration status here.
Need to register to vote at your current Pennsylvania address? Fix that now by clicking 

here

. 
Need to find your polling place? Click 

here

. 
Changed your mind and decided to vote in person (so your vote will be counted on election day, for example)? If so, remember to take your mail-in ballot with you, and give it to the poll-workers before you vote!