Dahnload the 2018 VOTERS GUIDE.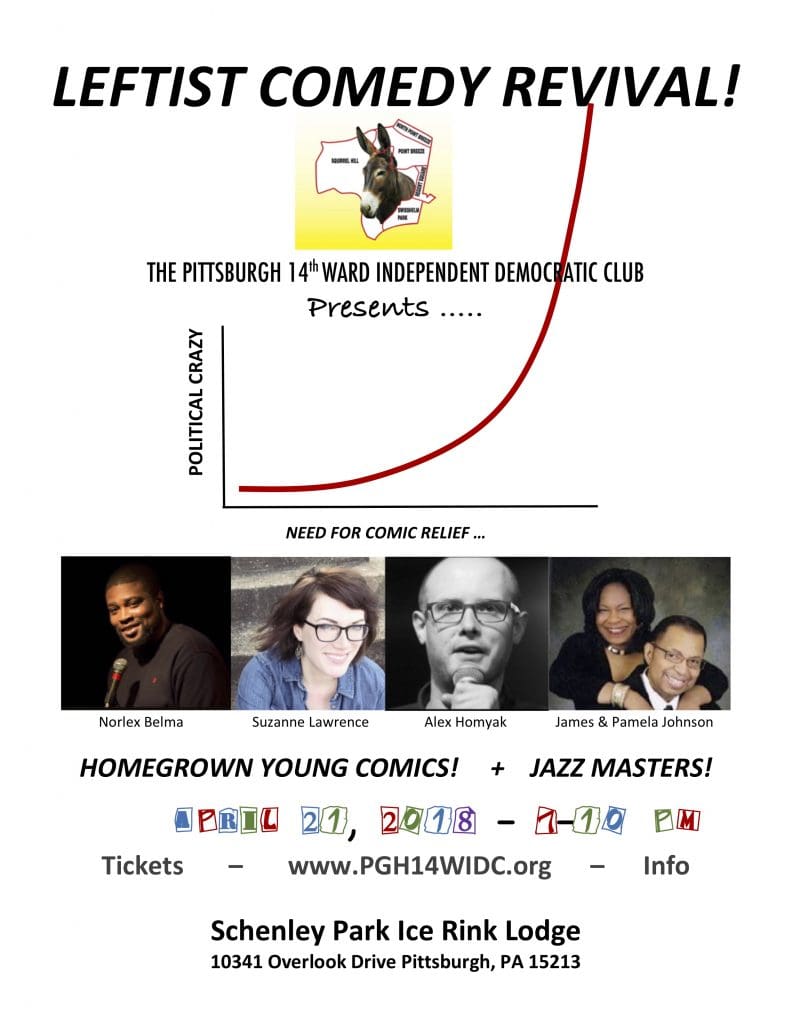 Oh, did we have a great time ….
THANKS TO OUR 2018 SPONSORS!
The sponsors below help to fund our work to reach 14th Ward Democratic voters through our Primary Election Voter's Guide and other efforts and publications to raise voter awareness and rally support for progressive democratic candidates for offices that have jurisdiction in the 14th Ward.
Member Sponsors donating $100 in addition to their membership dues
Darlene Cridlin and Bob Shreve
Bonnie V. DiCarlo
Julie and Irv Freeman
Wayne Gerhold
Barbara and David Grover
Liz and Mike Healey
Karen Hochberg
Peter and Leslie Kaplan
Saleem Khan
Kimberly Kisner
Heidi and Andy Norman
Kathie Smith and John Burke
Chelsa Wagner
Noel Walkington
Lynda and Ed Wrenn
At this year's fundraiser, we featured hot young comics in the Pittsburgh area, so we matched sponsorship categories to the night's theme: 
Amusing…            donating $125
Councilman Corey O'Connor
Nina Ahmad for Lt. Governor
Will Anderson for State Representative
Ryan M. Herbinko, Candidate for State Committee
Eileen Kelly, City Democratic Chair
Giggle-worthy      donating $200
PA Representative Ed Gainey
Very Funny!         donating $250
County Executive Rich Fitzgerald
Representative Dan Frankel
City Controller Michael Lamb
Hilarious!!!          donating $500
Congressman Mike Doyle
State Senator Jay Costa
Mayor William Peduto
John Fetterman for Lt. Governor
Thanks to everyone above who contributed to make this year's activities possible!
We also want to thank the many people in the membership and Board who volunteer to make the 14th Ward, Pittsburgh, Pennsylvania, and our nation a better place for everyone.
We're pleased to announce our 2018 Primary Election Endorsements!
US Senate: Bob Casey
US House: Mike Doyle
PA Governor: Tom Wolf
PA Lt. Gov: Nina Ahmad
PA House 23rd: Dan Frankel
PA House 24th: Ed Gainey
PA House 34th: Summer Lee
Our 2018 Endorsements for PA State Democratic Committee:
Barbara Ernsberger
Abigail Gardner
Jessica McCurdy
Caroline Mitchell
Judy O'Connor
Jessel Costa
Ryan Herbinko
Marvin Leibowitz
Ryan Morden
PGH 14 WIDC By-Law Changes: APPROVED